Kevin Macpherson
(current)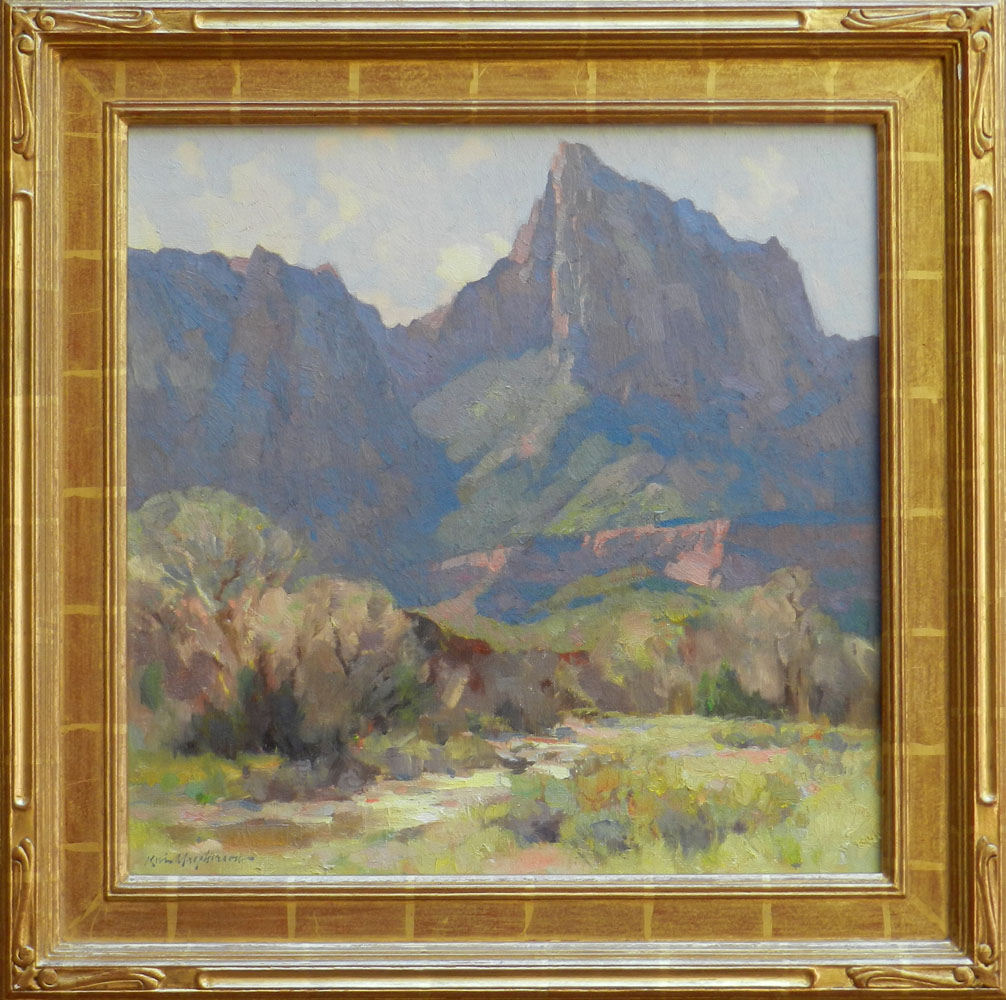 Zion Spring Fling
20
x 20 inches
KEVIN MACPHERSON graces the Cover of "Plein Air Magazine" with a feature article "Investing in Oneself". Macpherson enlightens us with insight into his life journey and how each adventure imparts more depth to his art and his life. The California Art Club Newsletter features Macpherson in an article "Embracing the World".
---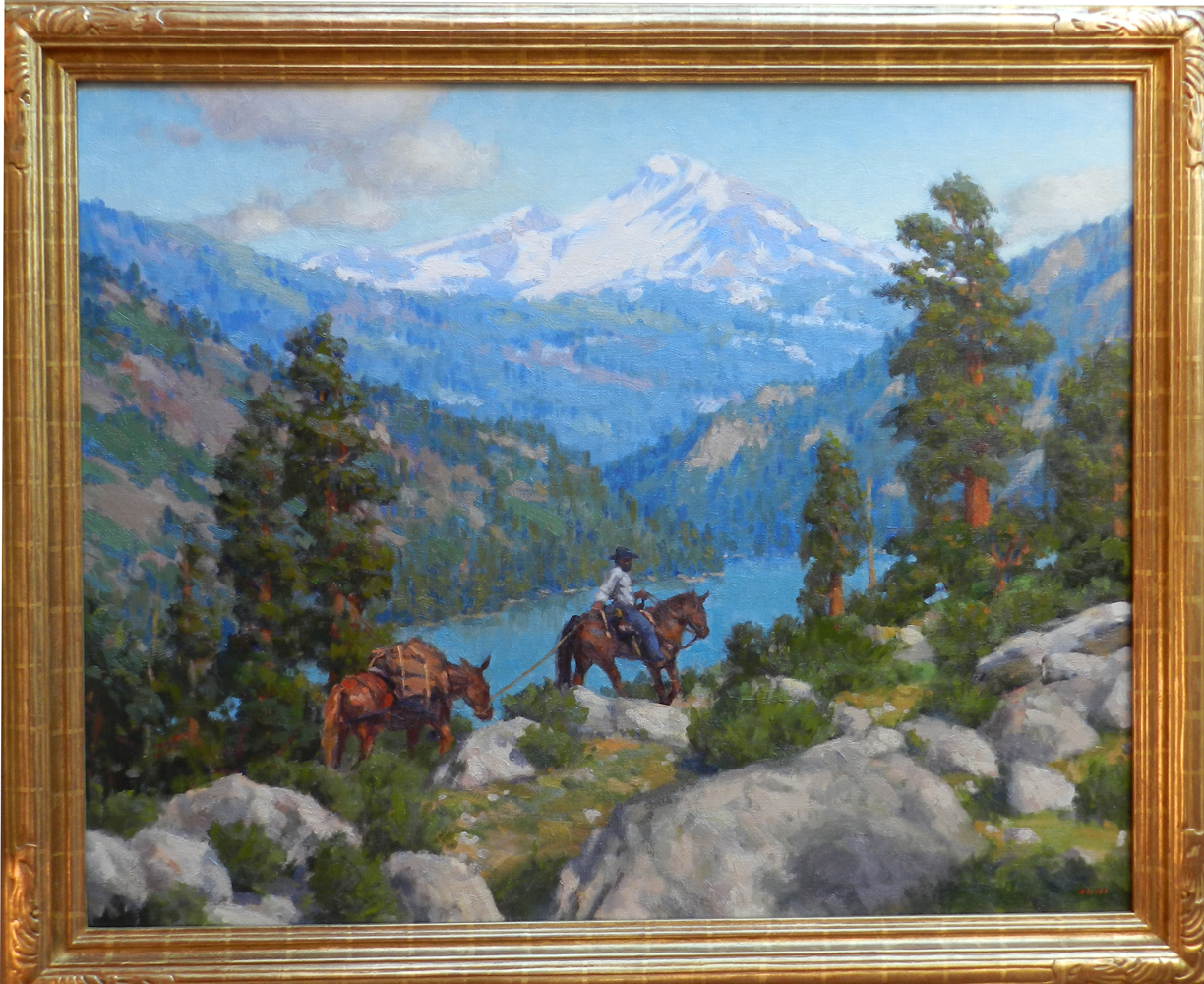 Mammoth Journey

40
x 50 inches
GREGORY HULL is a master painter who loves to escape to the most majestic scenery for inspiration. Hull, like the early California Impressionist, Edgar Payne seeks the most remote locations on horseback. The journey is rigorous and exhilarating. The magnificent paintings capture the pure awe and grandeur of the mountains. This spring Hull will be taking a painting trip through the Grand Canyon where he will inspire and teach other artists.
---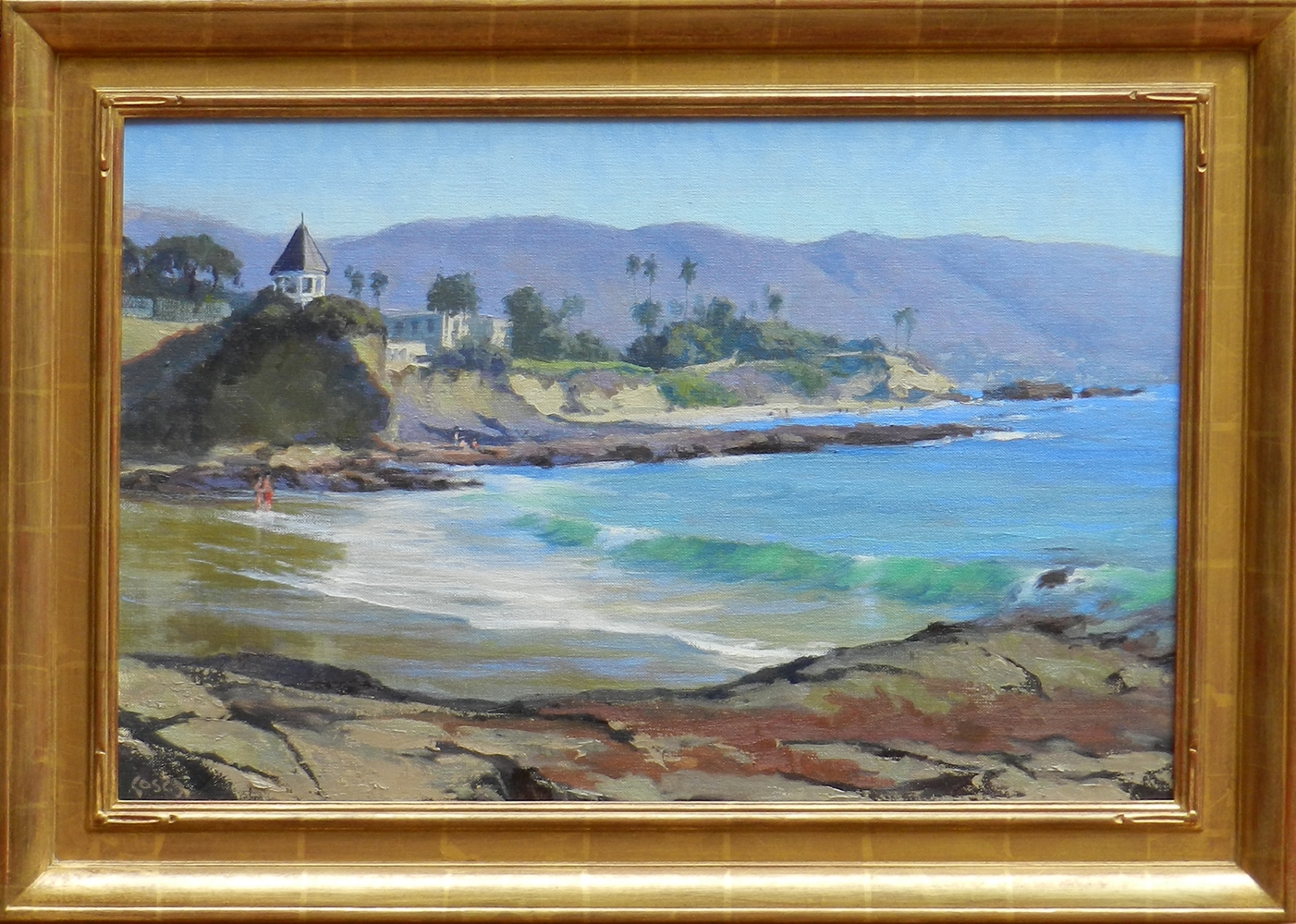 Shaw's Cove View

18 x 24 inches
COVES AND BEACHES OF LAGUNA BEACH - is our recent book comparing the paintings of John Cosby to the works of the Early California Impressionists. Shaw's Cove is a recent work of one of the most picturesque beaches in Laguna Beach. This painting defines the ocean at its best with a multitude of color and light reflecting the beauty of the moment.
Frank Cuprien

(1871-1948)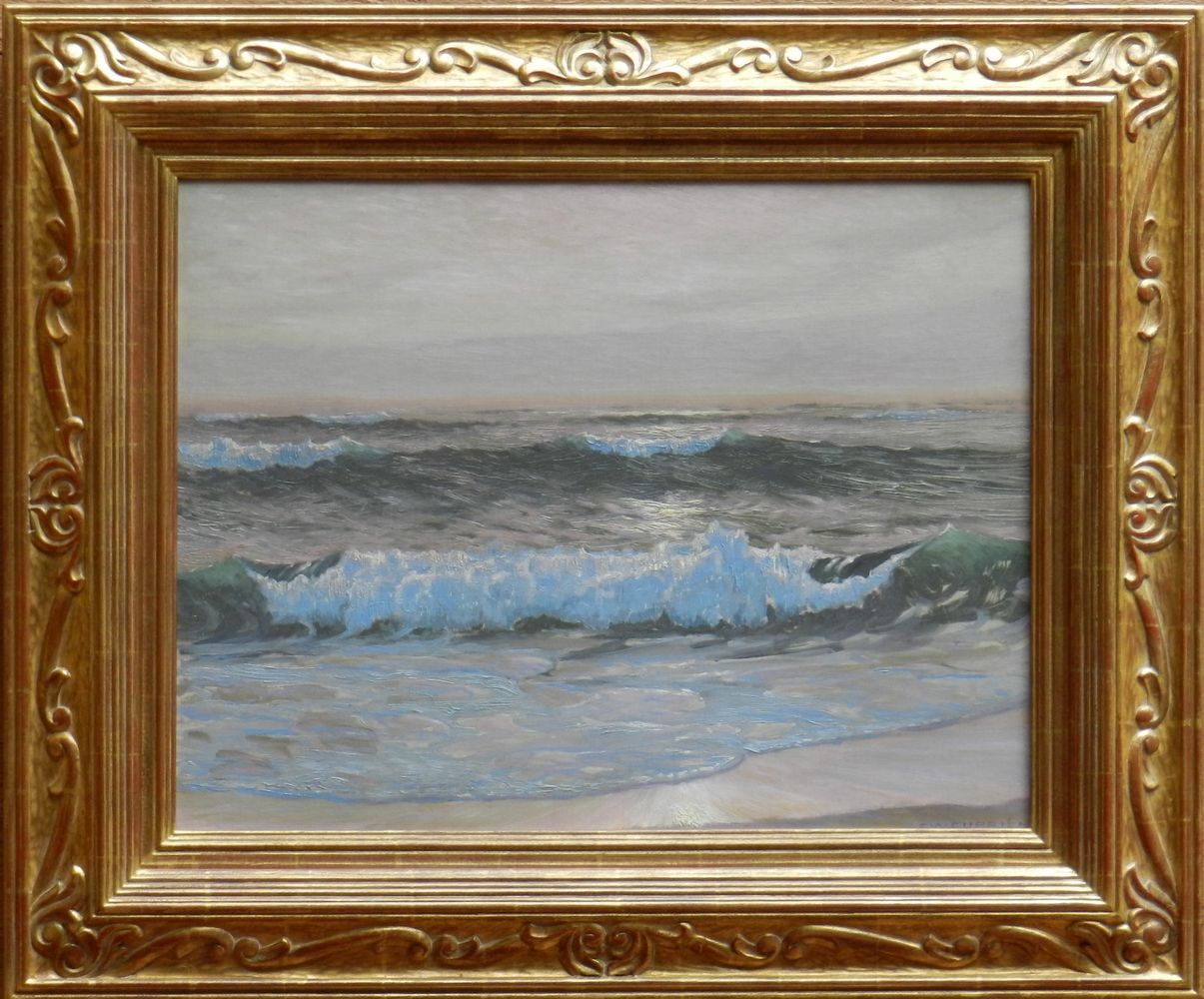 The Golden Ray

20 x 26 inches
The Golden Ray is currently being exhibited in the main lobby of the Montage, Laguna Beach. In addition there is an exhibit of paintings by Frank Cuprien at the Laguna Beach Art Museum. The museum discusses Cuprien: "An artist truly enchanted by the sea, Frank Cuprien built a home and studio in Laguna Beach in 1914. Named The Viking Studio, it was near Bluebird Canyon on a bluff overlooking the ocean. The artist called it his "Citadel of Inspiration" and could often be seen outdoors at his easel painting ocean views like those displayed. He would commonly use such works as the basis for larger compositions painted in the studio. Cuprien earned a national reputation for his paintings of the iridescent effects of sunlight and moonlight on calm seas. He was a founding member of the Laguna Beach Art Association, serving as president from 1921 to 1922."

The Irvine Museum CALIFORNIA SCENE PAINTINGS: 1920's - 1970's through May 8, 2014.
Pasadena Museum of California Art JUNE Wayne EXHIBIT & TIME, SPACE, MATTER EXHIBIT May 4 through Aug 31 2014
Laguna Art Museum FRANK CUPRIEN: PACIFIC VIEWS 1914-1938 A group of small Marine paintings on view in the Mezzanine. WAYNE THIEBAUD through June 1, 2014 - TRAVELS WITH MILLARD SHEETS 1950-1986 through June 1, 2014
Bowers Museum CALIFORNIA THE GOLDEN YEARS permanent collection THE LURE OF CHINATOWN through Aug 31, 2014
Crocker Art Museum JULES TAVERNIER: ARTIST AND ADVENTURER February 16, 2014 through May 11, 2014
Art Walk FIRST THURSDAYS ART WALK - Laguna Beach 6 - 9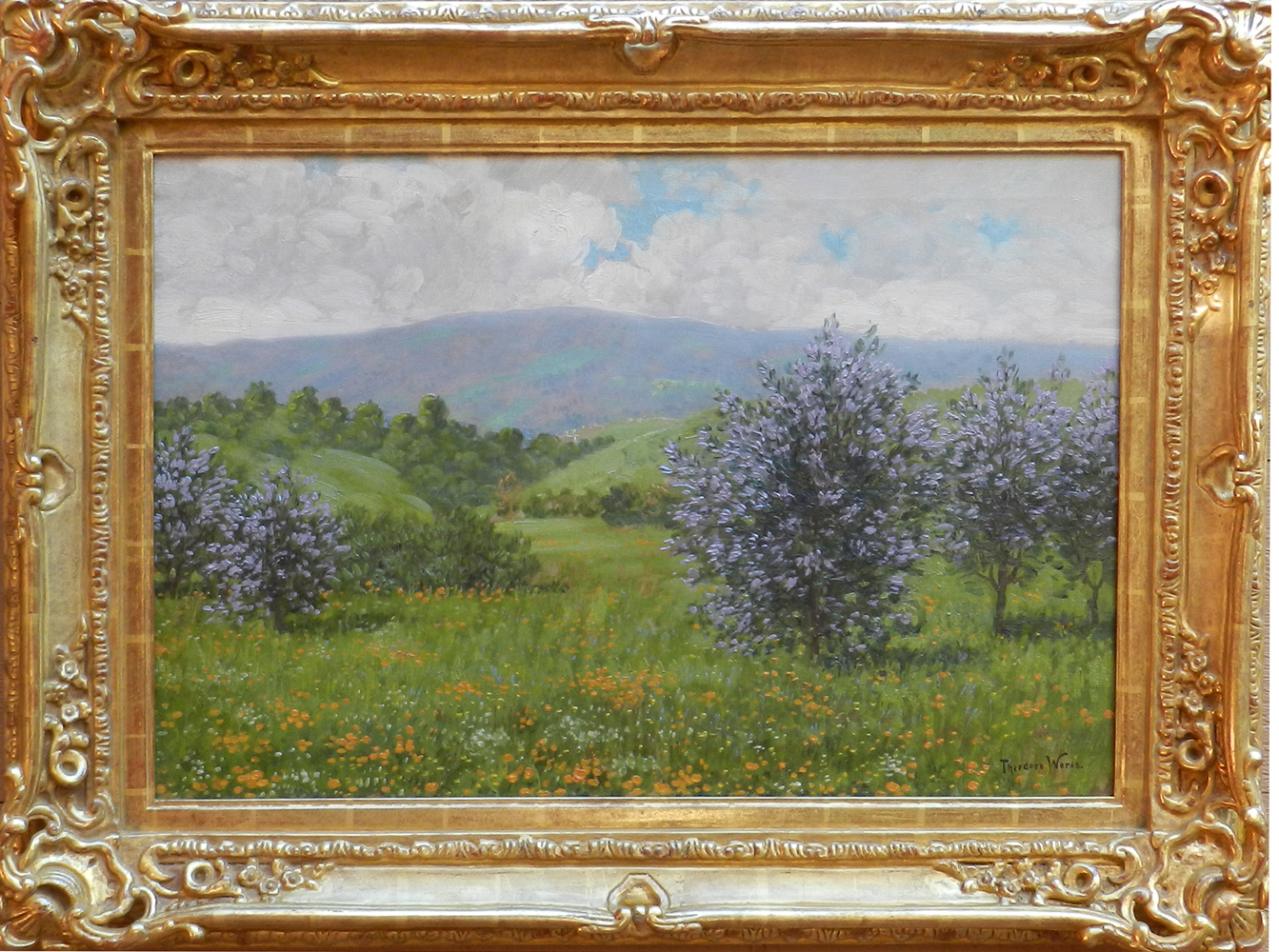 Lilacs in Los Altos, California
20 x 30 inches
Theodore Wores was born in 1859 in San Francisco. Wores was the best-known artist working in San Francisco during the late 19th to early 20th century. "Lilacs in Los Altos, California" is one of the artist's treasured paintings. In it the artist demonstrates his sophisticated use of color, atmosphere and impressionism at its best. A highly regarded painter, both in his lifetime and today, Theodore Wores was one the most well-travelled artists during his lifetime. He journeyed throughout the world and was inspired by the art. From San Francisco to Germany to New York City to Japan, Canada and Taos New Mexico the artist found delight in creating masterful paintings of some of the most interesting and stunning places in the world.
From 1879-81, he was one of the "Duveneck Boys" in Munich. He returned to San Francisco in 1881, painting portraits and scenes in Chinatown, and by 1884 was teaching at the San Francisco Art Students League. In 1888, he had a studio at the Tenth Street Studio Building in New York City, next to William Merrit Chase. From 1885-87, he was one of the first Americans to paint in Japan, and lived near Tokyo. In 1892, he held an auction of his paintings to fund his return to Japan, where he painted more than 100 new works during the next two years. His articles on Japan appeared in Century and Scribner's. From 1901-02, he traveled and painted in Hawaii and Samoa; and in 1903 he was in Spain painting with Phillip L. Hale. He returned to San Francisco in 1905, and from 1907-12, was director of the San Francisco Art Institute (former Mark Hopkins Art Institute). The great San Francisco fire of 1906 destroyed his home, studio and much of his earlier work. In 1913 he was painting in the Canadian Rockies; and from 1915-17 he painted the Southwest Indians in Taos, NM. In 1926 he moved to Saratoga near San Francisco and continued to paint vivid Impressionist landscapes. His works are revered in many private and public collections.

---

(1861-1930)
George Gardner Symons was born in Chicago, Illinois on October 27, 1861. Symons began his art training at the Art Institute of Chicago and it was there that he met William Wendt who was to remain a close friend for the rest of his life. After further art study in Munich, Paris, and London (1902-09), he settled in Brooklyn in 1909.
Symons is best known for his New England snow scenes. Perhaps his most famous snow painting is now part of the Metropolitan Museum of Art collection in New York a grand painting the artist sold to the museum for a large sum of money. Symons was highly successful during his illustrious career keeping a studio in Brooklyn New York while continuing to travel. In 1884 he made his first trip to Southern California and in 1896 accompanied by Wendt returned and built a studio in what is now South Laguna Beach. The artist maintained studios in the East, splitting his time between New York City and his country home in Colerain, MA. and travelling to his studio in California. He also painted frequently in Cornwall, England.
Member: Associate member of the National Academy of Design, 1910; National Academy, 1911; Royal Society of British Artists; Laguna Beach Art Association; California Art Club; National Arts Club, New York (life); Union International des Beaux Arts et des Letters; American Federation of the Arts; Century Association; Chicago Society of Artists; Salmagundi Club,1900; Chicago Gallery of Art; Institute of Arts and Letters.

Exhibited: Royal Academy of London, 1899; Art Institute of Chicago, 1899-1902 (under Simon), 1909-24; Pennsylvania Academy of Fine Arts Annual, 1901, 1910-29; Boston Art Club, 1901; National Academy of Design, 1909 (Carnegie prize), 1919 (prize); Salmagundi Club, 1910 (Evans prize); Buenos Aires Exposition, 1910 (bronze medal); National Arts Club, New York, 1912 (gold medal); Corcoran Gallery of Art - biennials, Washington D.C., 1910-28 (9 times; including bronze medal in 1912); Cleveland, 1913; National Academy of Design, 1913 (Saltus gold medal); Concord Art Association (6th annual exhibition); Society of Independent Artists, 1917.

Works Held: Metropolitan Museum of Art, New York; Brooklyn Institute of Arts & Sciences; Art Institute of Chicago; Cincinnati Museum of Art; Corcoran Gallery of Art, Washington D.C. ; Laguna Beach Art Museum; Irvine Art Museum; Youngstown, OH; Carnegie Institute, Pittsburgh; Los Angeles County Museum of Art; Pasadena Art Museum; Toledo Museum of Art; St. Louis City Art Museum, Dallas Art Association; Minneapolis Institute of Art; Fort Worth Museum; Butler Art Institute; National Arts Club; Des Moines Art Association; Lincoln Art Association (NE); Cedar Rapids Art Association, Iowa; Museum of Art, Erie, PA; Rochelle (IN) Art Association
---