Click on the Image to see more paintings
Kevin Macpherson
(current)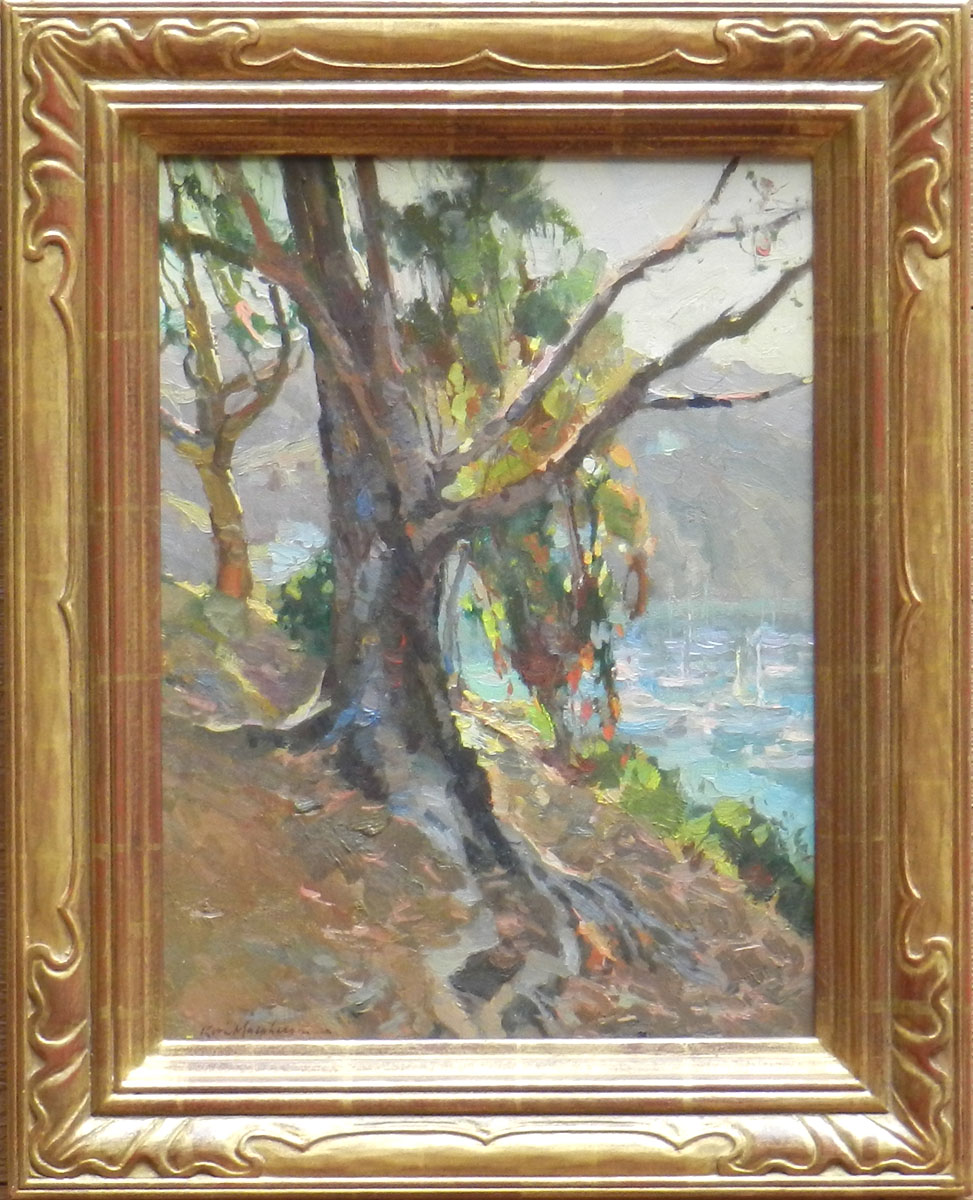 Promise Tree
16 x 12 inches
KEVIN MACPHERSON brings treasured memories from our beloved Catalina Island. It truly is an island of romance. Perhaps the charm of the island and the artistic movement of this magnificent tree compelled Macpherson to immortalize the scene on canvas. The Promise Tree glistens in the sunlight with a multitude of colors dancing off the canvas. In the distance, is a peaceful harbor full of sailboats.
---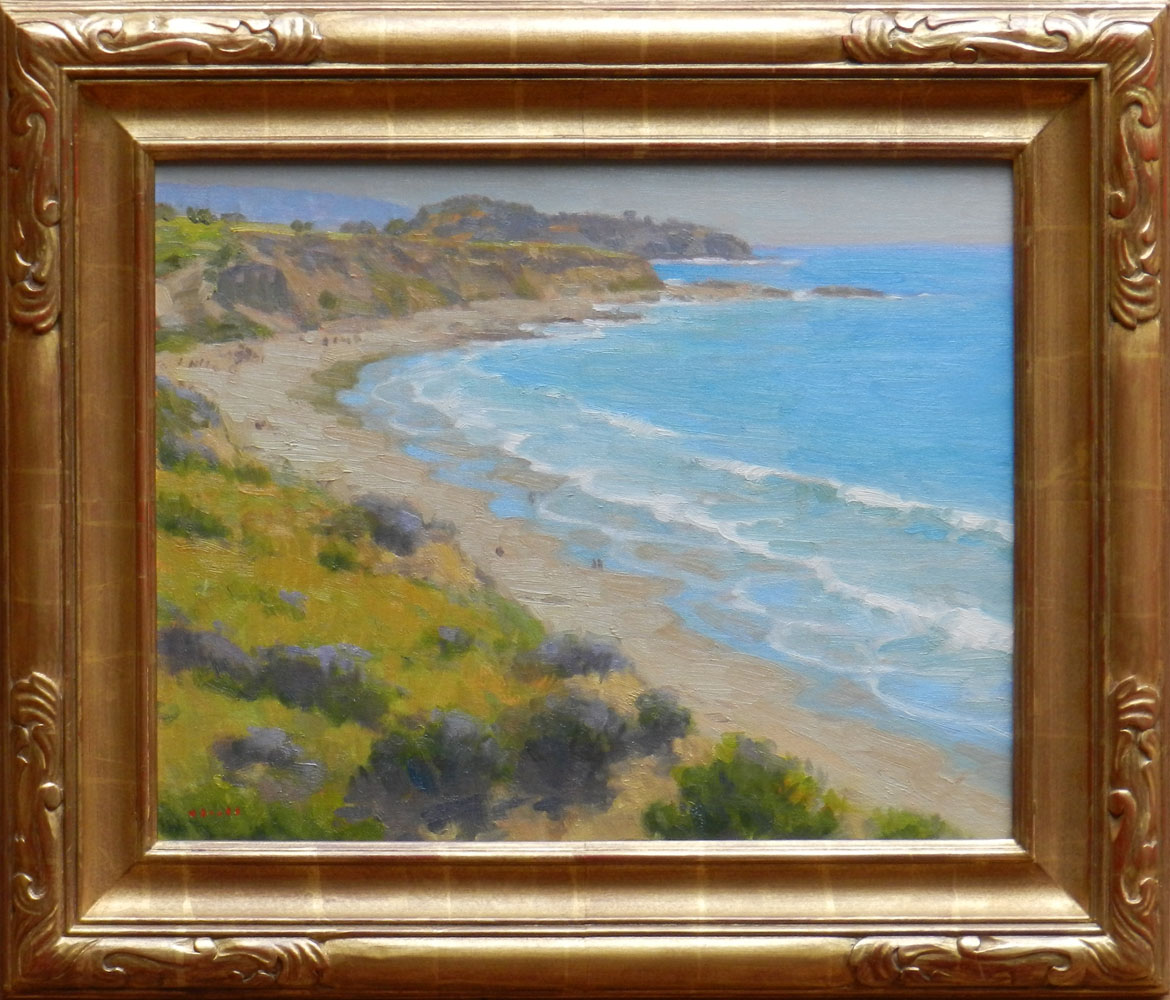 Crystal Cove Afternoon
16 x 20 inches
GREGORY HULL is a master painter of all subjects, but it is his outdoor impressionist work that is his passion. Hull is a disciplined artist whose work appears to be effortless. Here California's gold coast is defined with perfect color harmonies and spontaneous brush work. Hull recently painted the California coast. Please click on the image for a preview of his new paintings on our web site.
---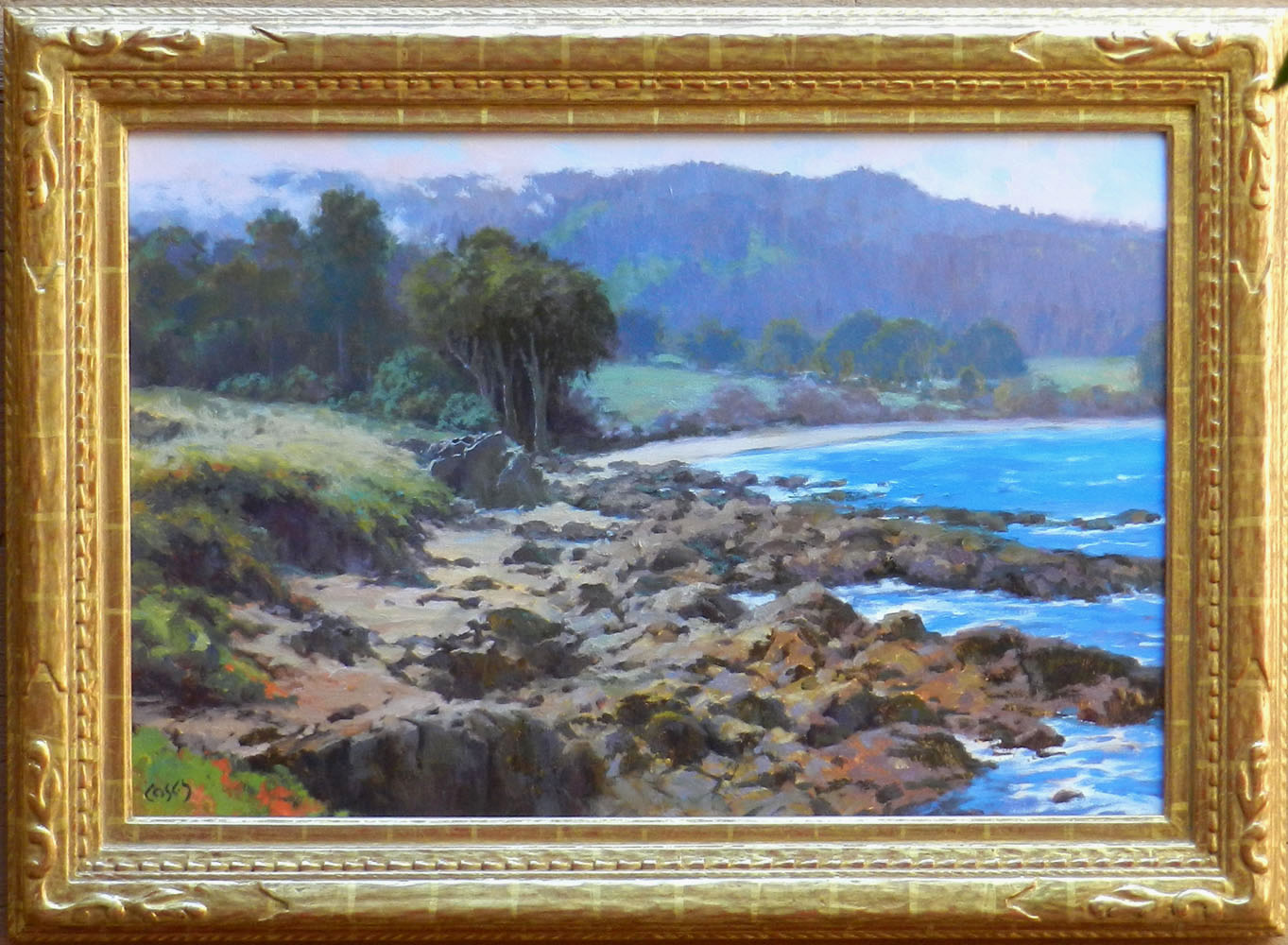 A Quiet Day

24 x 36 inches
JOHN COSBY delivers a unique perspective of the lush coast of central California. The artist invites the viewer to walk along the rocky coast. A Quiet Day implies that there are few people or distractions to interfere with the peacefulness of this day. It is indeed a welcome break from the demands of daily life and the business of the modern world.
Arthur Grover Rider

(1886-1975)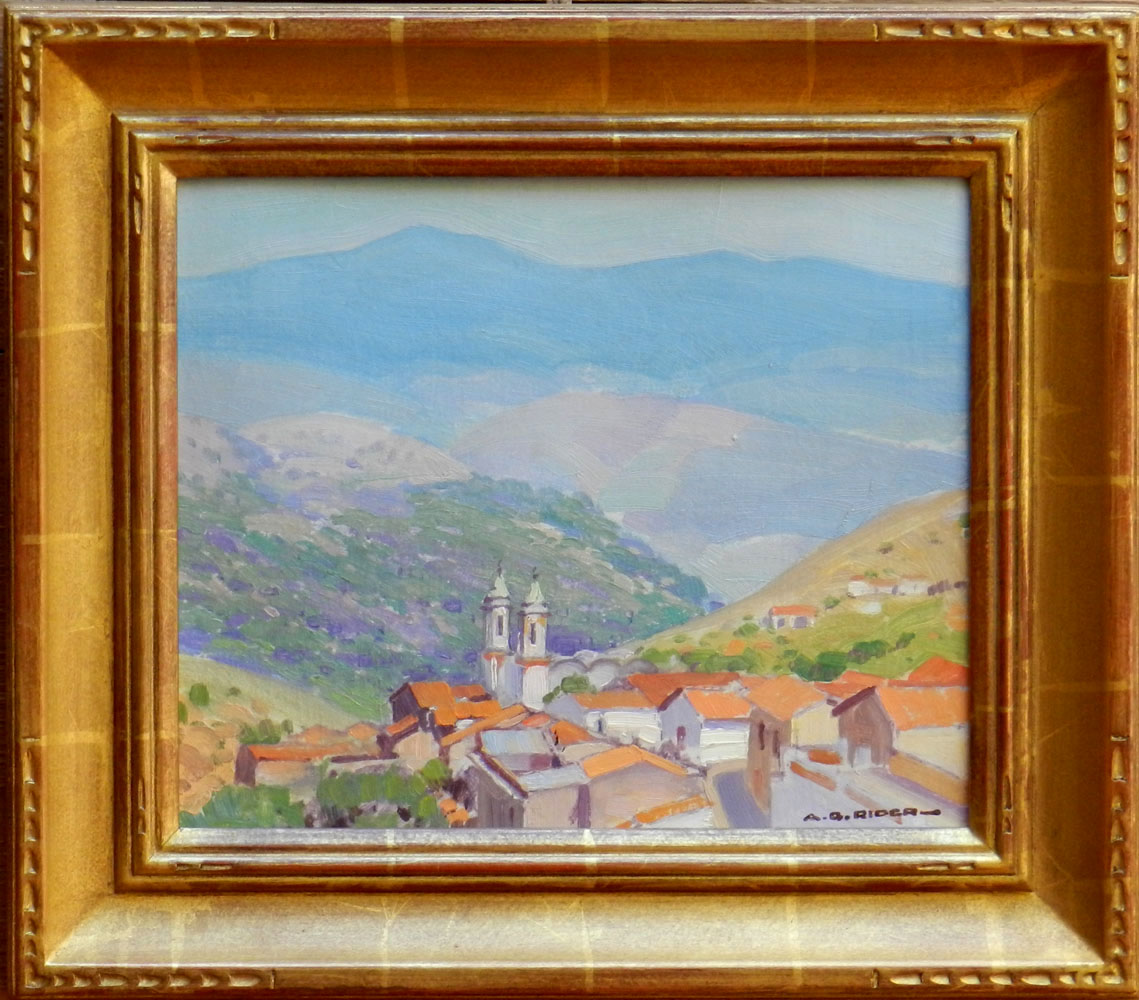 Rooftop Vista

10 x 12 inches
ARTHUR GROVER RIDER was born in Chicago, Illinois on March 21, 1886. Rider received his early training at the Academy of Fine Arts in Chicago. In his student years, he painted for the Chicago Lyric Opera and later traveled to Europe. While living in London, he painted for the London Opera at Covent Garden. He further studied at Académies de la Grande-Chaumiére and Colarossi in Paris, and exhibited there at the George Petite Galleries.

For nine summers, he painted in Spain where he met Joaquin Sorolla who greatly influenced his work. They painted together on the Valencian Beach. In 1924, he moved to Los Angeles, and during the 1930s maintained a studio-home in nearby Laguna Beach. For over thirty years he was one of the leading scenic artists with MGM and Fox Studios. Making several trips to Taxco, Mexico he painted the charming cathedrals and buildings with the red tile roofs.


San Diego Museum of Art GAUGUIN TO WARHOL October 4 through January 27, 2015
The Irvine Museum SCENIC VIEW AHEAD: THE WESTWAYS COVER ART PROGRAM 1928-1981 October 11, 2014 through January 15, 2015.
Pasadena Museum of California Art AN OPENING OF THE FIELD: JESS, ROBERT, DUNCAN AND THEIR CIRCLE through Jan 11, 2015 ARMIN HANSEN: THE ARTFUL VOYAGE January 25 through May 31, 2015
Laguna Art Museum CALIFORNIA RURAL, 1930s and 1940s through February 15, 2014 SELECTIONS FROM THE PERMANENT COLLECTION including works by the Laguna Beach painters Frank Cuprien, Anna Hills, Edgar Payne, and William Wendt.
Bowers Museum CALIFORNIA THE GOLDEN YEARS permanent collection UPCOMING: ADAMS, WESTON AND CURTIS: PHOTOGRAPHERS OF THE AMERICAN WEST Spring 2015
Art Walk FIRST THURSDAYS ART WALK - December 4, 6 pm - 9 pm Presenting Laguna College of Art and Design Mentoring Program Emmalyn Tringali painting "Tidepools"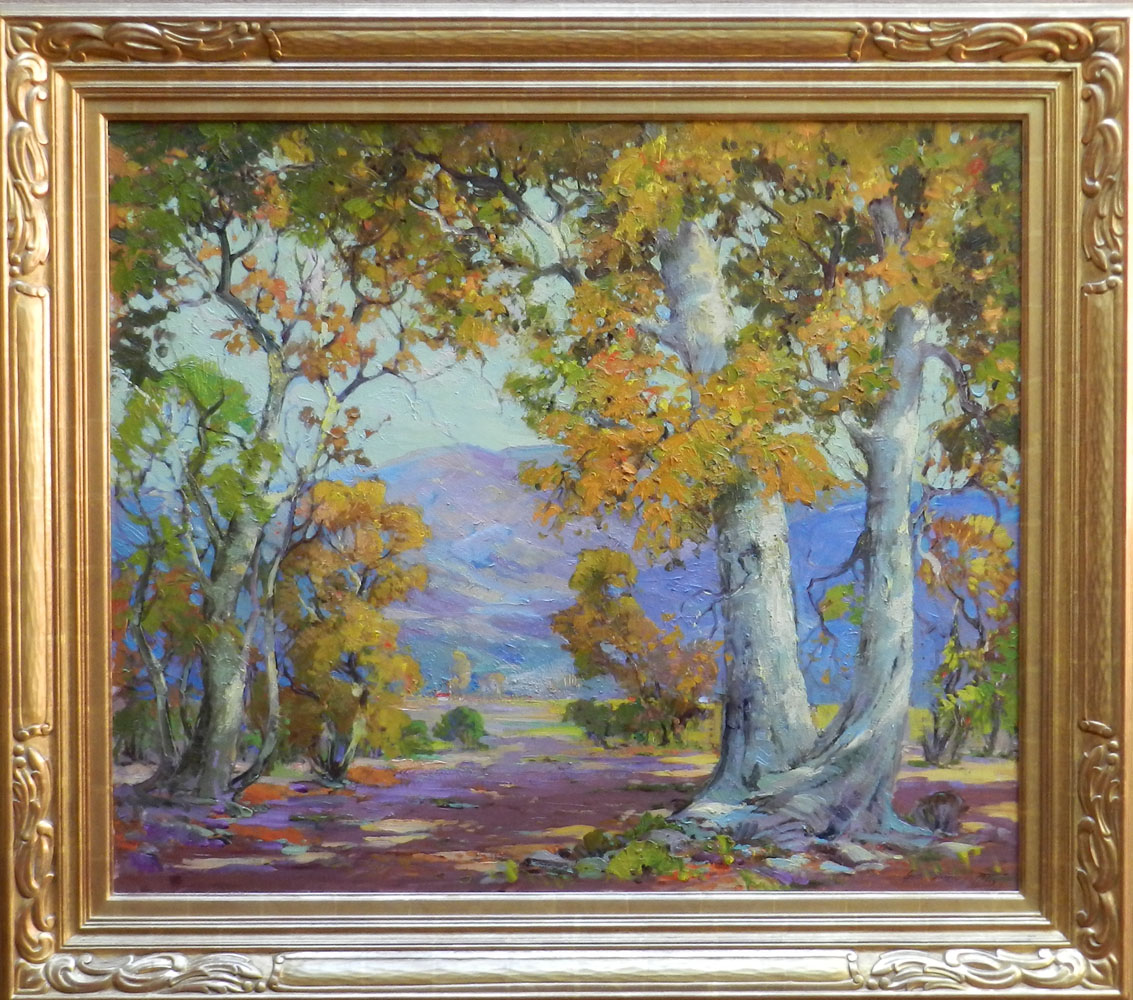 When Autumn Comes
circa
1928
Exhibited: State Exposition Building Art Exhibit, Exposition Park, Los Angeles, CA December 1, 1928 through December 31, 1928
Original price $500.00 on exhibition label
When Autumn Comes is truly a masterpiece During the 1920s Otis lived in Los Angeles and his studio was in Burbank, California. Arthur Millier, art critic for the Los Angeles Times, enthusiastically praised the artist saying, "...here is a man who has the essential thing in a landscape painter's equipment - a strong lyric impulse...". Fred Hogue, editor of the Los Angeles Times Art page, wrote: "Otis is a distinctive colorist. His canvases recall those of no other artist. He possesses that originality of conception and composition that is the surest mark of genius..."
Born in Memphis, Tennessee on September 21, 1879. After three seasons as a pitcher of Memphis and Nashville clubs, Otis abandoned a promising baseball career to pursue art. He first studied art at age 14 at the Art Institute of Chicago followed by work at the Pennsylvania Academy of Fine Art, Cooper Union, National Academy of Design, Artist Student League, Brooklyn Academy and with Robert Henri, William M. Chase and John F. Carlson. While maintaining a studio in Chicago, he traveled extensively, often in the company of Thomas Moran. Early in century he lived in Colorado, Taos and Santa Fe, New Mexico.
In 1919, he moved to Los Angeles where he executed work for the movie studios and made frequent painting trips to the Indian reservations of New Mexico and Arizona. Moving to San Francisco in 1930, he established a studio in the former Arthur Putnam home and in 1934 built a home-studio in the small town of Kentfield in Marin County. He taught hundreds of students during his lifetime. However, in 1939, he abandoned teaching to devote full time to painting.
Otis received many awards including first prize at the California State Fair for a painting of the Laguna Beach Woman's Club, and he exhibited widely at the Metropolitan Museum, New York; Los Angeles Museum of Art;, Corcoran Gallery in Washington D.C.; Legion of Honor and the De Young Museum in San Francisco.
Through his success in Southern California he was acquainted with many of the early movie stars. Buster Keaton became a personal friend. Eventually he became restless and travelled throughout the United States.
An Impressionist, today he is nationally recognized as a painter of mountain landscapes, sycamore and eucalyptus trees and missions. A leader in conservation, he is known as the artistic father of Pt. Reyes National Seashore and the Golden Gate National Recreation area. His works are held at the Art Institute of Chicago, the Hackely Gallery of Fine Art, Muskegon, Michigan, the Smithsonian Institute and the White House in, Washington D.C.
---

(1863-1931)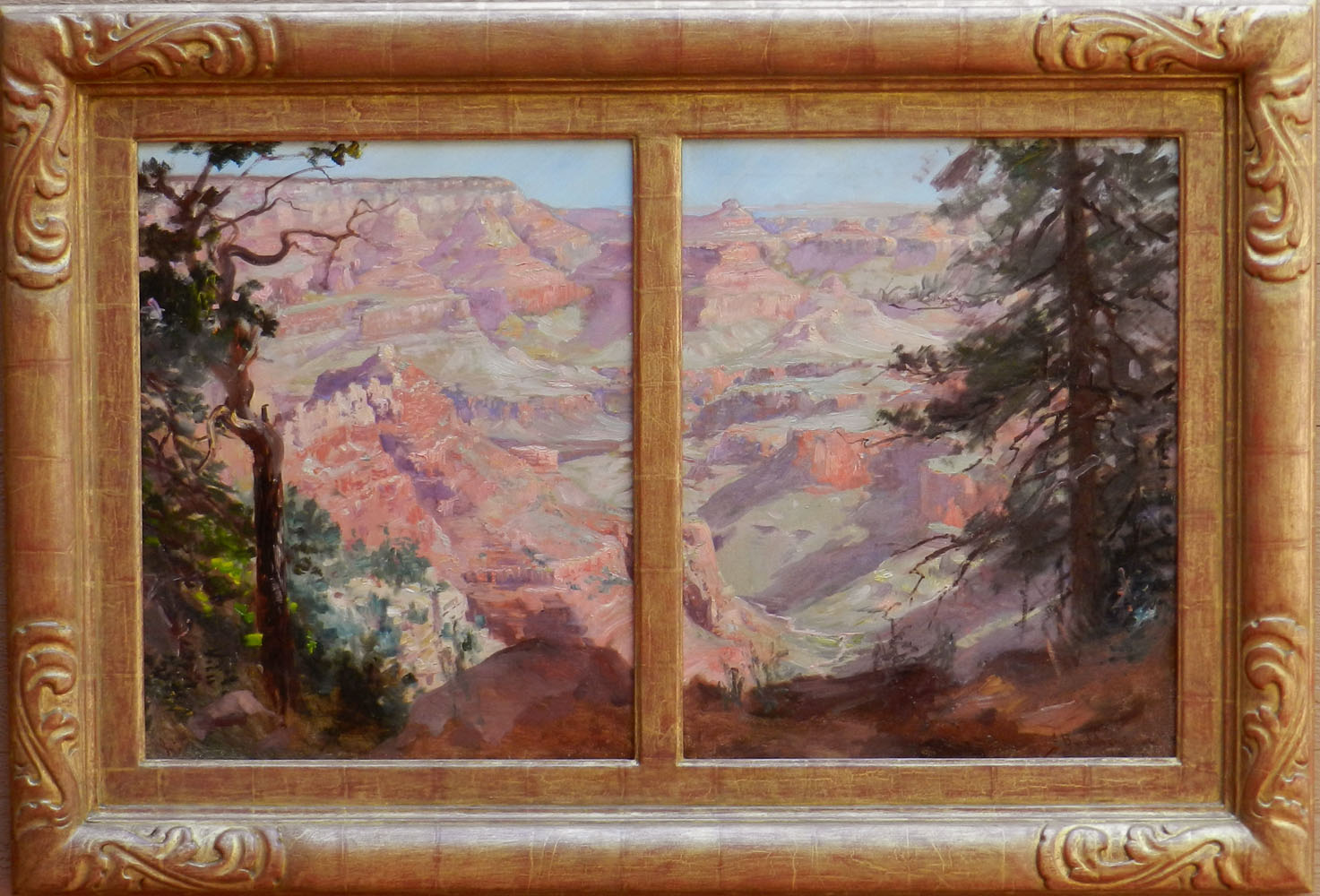 Two canvases side by side 16
x 20 inches
Grand Canyon was presented in an exhibition titled "Pack-in Painters of the American West" by the University of Southern California Art Galleries November 22 - December 23, 1976.
Like looking through a window, these two canvases were painted together side by side, on location, in order to encompass the majesty of the Grand Canyon. A large canvas could not be packed into the canyon by mule, so the artist decided to use two canvases to create a panoramic scene. Each canvas is a complete painting, so they could easily be framed as two separate paintings.
Francisco was one of the earliest artists to paint the west. This work was likely painted in 1906 when he first visited northern Arizona as a guest of the Santa Fe Railroad. One of his glowing Grand Canyon views was used as a travel advertisement.
John Bond Francisco was born in Cincinnati, Ohio in 1863. He studied art and music at Ohio State University and went to Europe, painting with Fechner in Berlin and Nauen in Munich. In Paris, he studied at the Julian and Colarossi Academies, and his teachers were William Adolphe Bouguereau, Tony Robert-Fleury, and Gustave Courtois. He also painted in Switzerland, Germany, and France and took violin lessons in Berlin and Paris.
Francisco was one of the earliest artists to arrive in Los Angeles where he spent the rest of his life. From 1900 through the twenties, John Bond Francisco was a major cultural figure in Los Angeles. He performed as a violinist, painter, teacher and entertained in his Albany Street studio. He was a serious young student of both violin and painting in his home state of Ohio and for several years in Europe. When he arrived in Los Angeles in 1887 at the age of twenty-four, he continued to divide his time between art and music.

In 1897, he contributed to the formation of the Los Angeles Symphony Orchestra and became its first concertmaster. He taught students of violin and organized frequent recitals and chamber music performances. During this time he continued to paint, working mainly in his studio. His first exhibition in Los Angeles in 1892 was primarily figural studies reminiscent of his Julian Academy days.

He opened his academy of art in 1899. It was then that he began to experience the lure of California's countryside. He would hitch up a team and drive out for a day's painting, often accompanied by students or colleagues. Elmer Wachtel, who had come to him as a student, became a frequent painting companion. They often travelled to the San Bernardino mountain range, where they hunted, fished and painted.
---
Click on the images to see more paintings