Click on the Image to see more paintings
Kevin Macpherson
(current)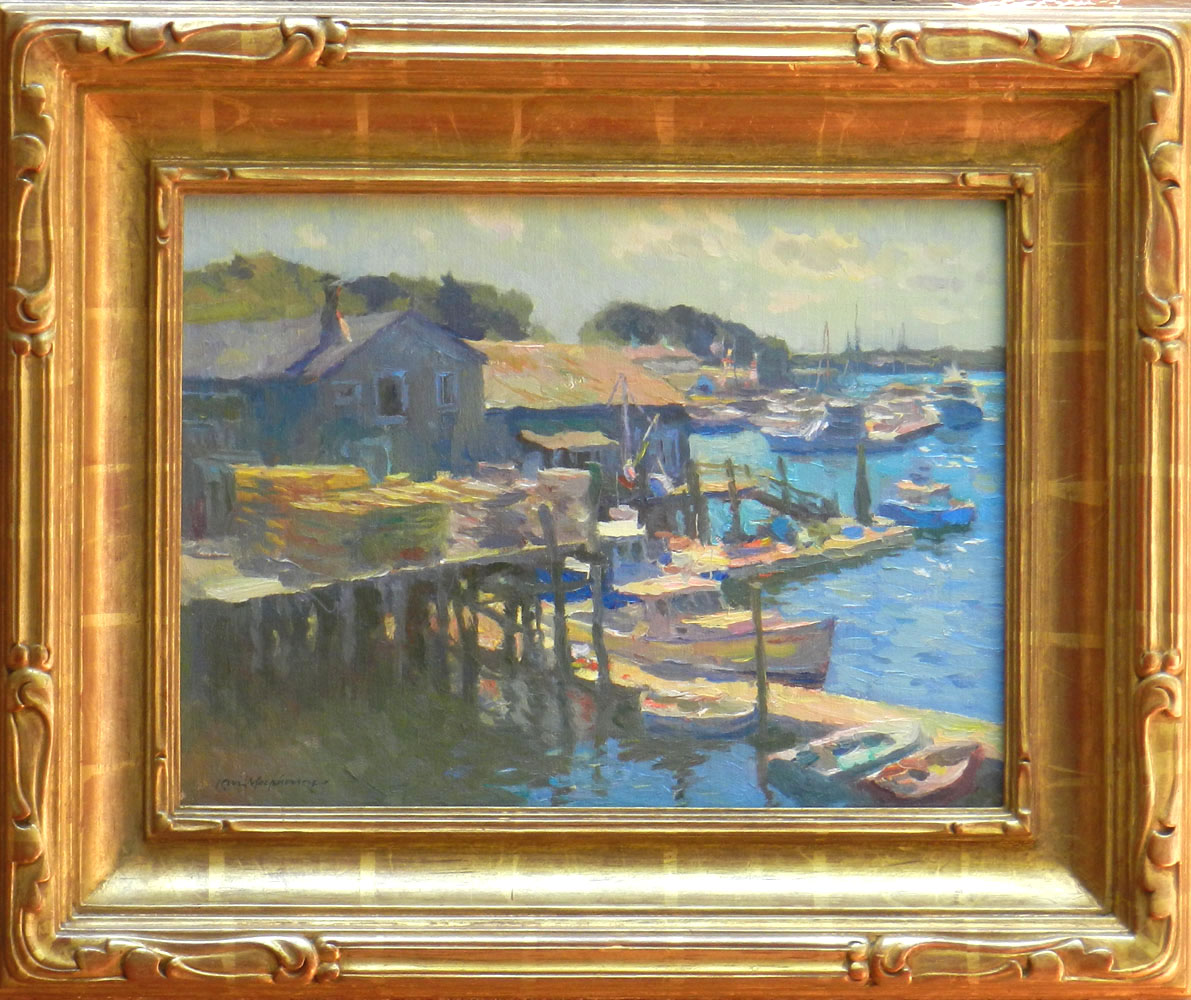 Working Harbor
12 x 16 inches
KEVIN MACPHERSON is on the move again as he searches the globe to find inspiration for new works. "I have created many adventures for myself and I always try to find ways to share these experiences." He shares his joy of the world with all of us in each of his creations.
---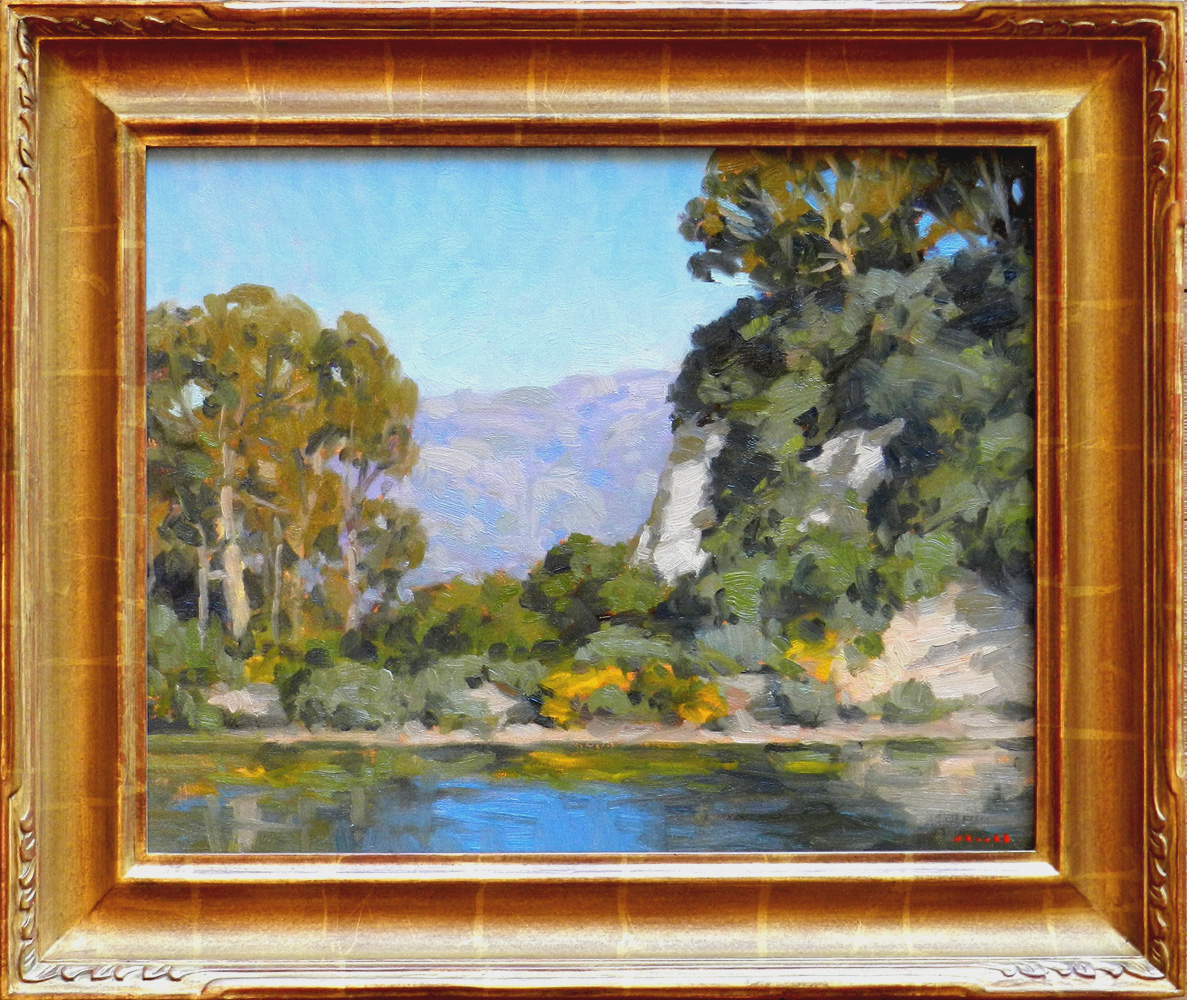 GREGORY HULL has painted full time for nearly forty years "living by the brush" as he likes to say. As a full-time painter his entire career, Hull has mastered some of the most majestic scenery. Hull's creative spirit delivers a unique perspective with every canvas.
---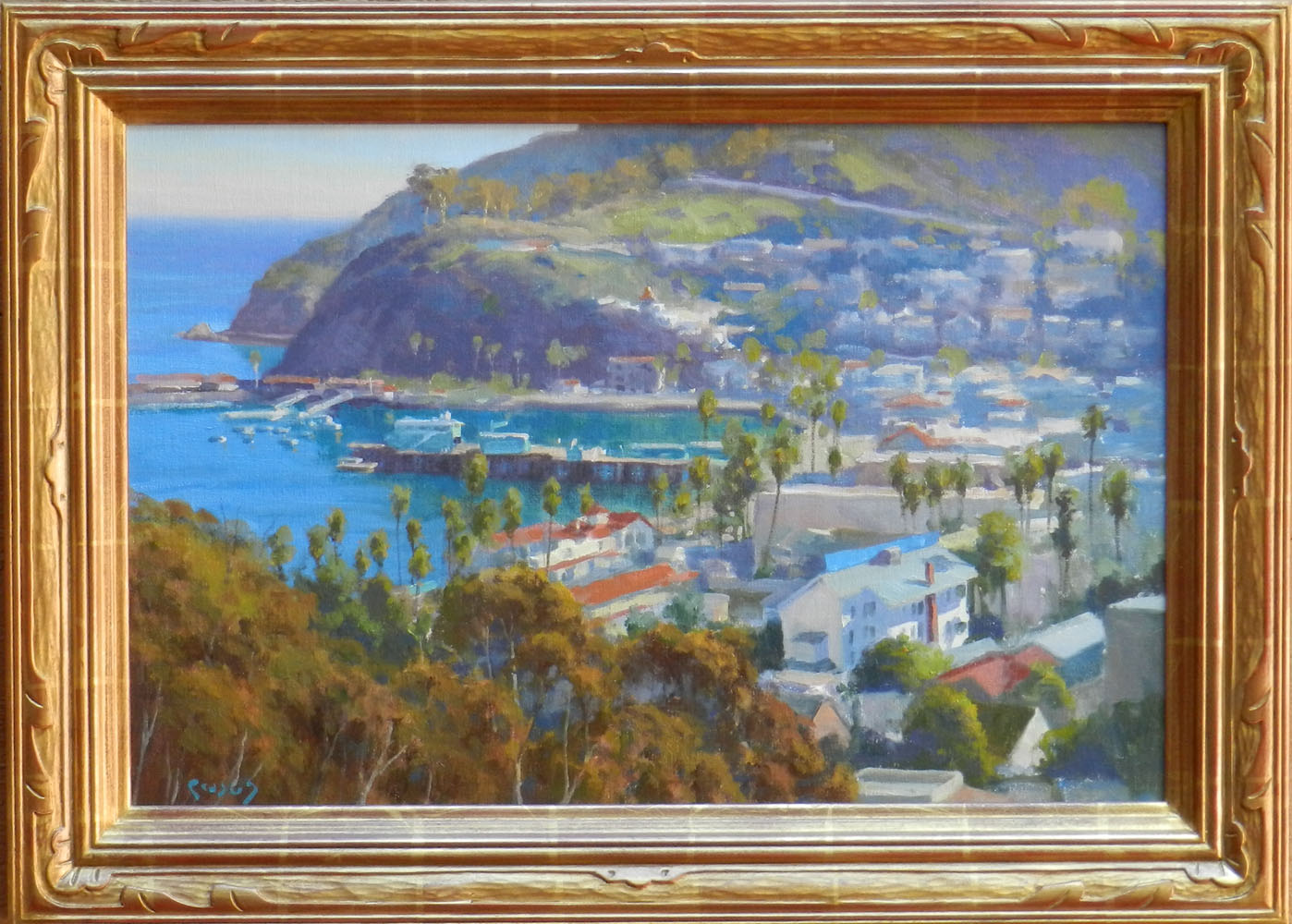 Memories of Avalon

16 x 24 inches
JOHN COSBY brings us a complex painting of Avalon Harbor in Catalina Island. Catalina holds a marvelous history of famous visitors romanced by Catalina's charm. Artists of all types continue to visit the island to catch the magic that is unique to this grand destination.
Jean Mannheim

(1863-1945)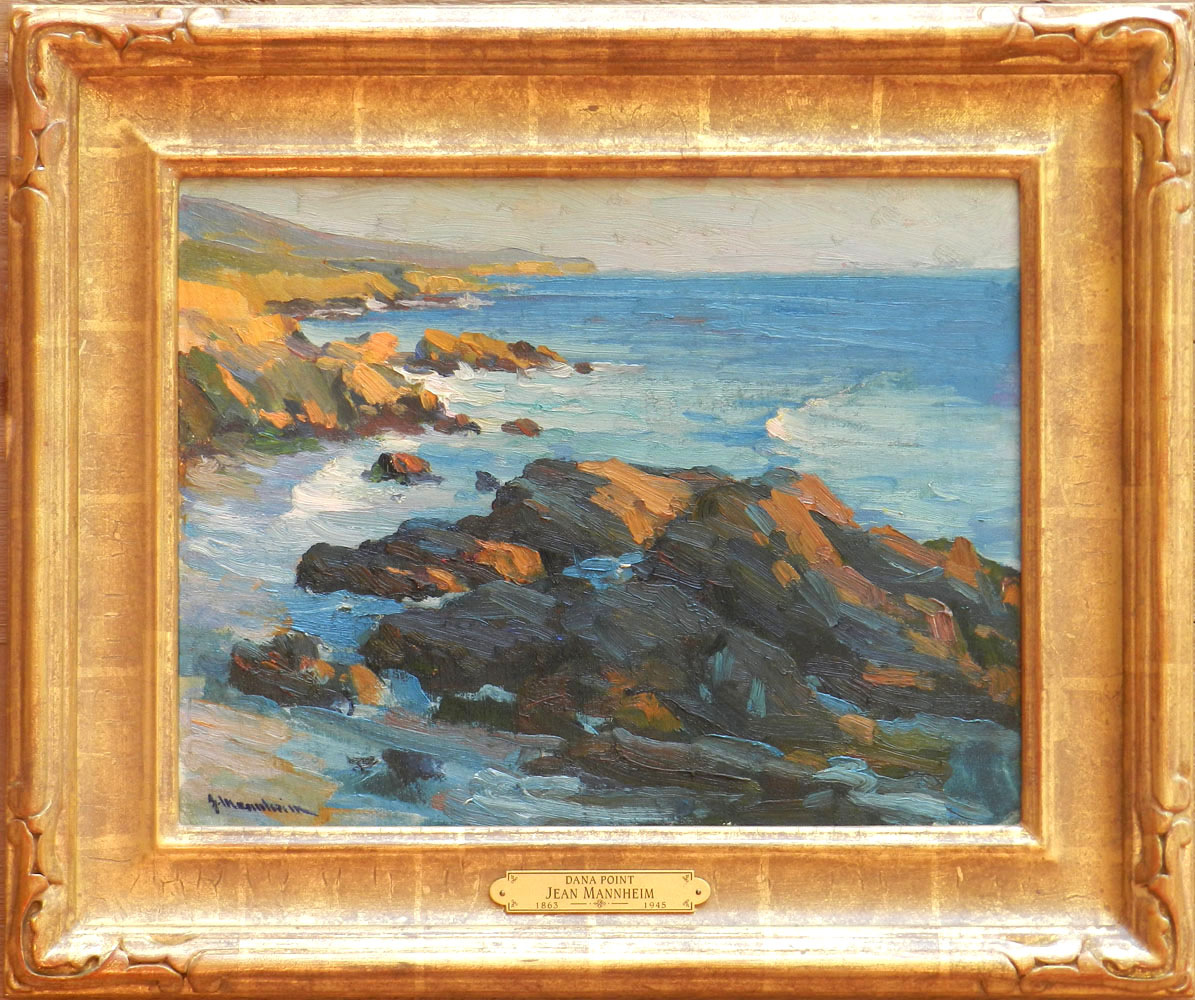 South Laguna View

12 x 16 inches
JEAN MANNHEIM came to California after studying art in Paris at the famed Academie Julian, Colarossi and Delecluse under the direction of Bouguerau (1825-1905) where he developed a strong traditional background. Mannheim was the founder of the Stickney Memorial School of Fine Arts in Pasadena in 1913. He was one of the first artists to build a home on the rim of the Arroyo Seco of Pasadena. South Laguna View is a lovely scene looking toward Crystal Cove. Mannhiem produced some beautiful seascapes of Laguna Beach including a large seascape in the permanent collection at Montage Laguna Beach.

San Diego Museum of Art GAUGUIN TO WARHOL October 4 through January 27, 2015
The Irvine Museum THEN AND NOW: 100 YEARS OF PLEIN AIR PAINTING through October 2, 2014. SCENIC VIEW AHEAD: THE WESTWAYS COVER ART PROGRAM 1928-1981 October 11, 2014 through January 15, 2015.
Pasadena Museum of California Art AN OPENING OF THE FIELD: JESS, ROBERT, DUNCAN AND THEIR CIRCLE through Jan 11, 2015 ARMIN HANSEN: THE ARTFUL VOYAGE January 25 through May 31, 2015
Laguna Art Museum REX BRANDT: IN PRAISE OF SUNSHINE through September 21, 2014 FRANK CUPRIEN: PACIFIC VIEWS 1914 -1938 Ongoing
Bowers Museum CALIFORNIA THE GOLDEN YEARS permanent collection UPCOMING: ADAMS, WESTON AND CURTIS: PHOTOGRAPHERS OF THE AMERICAN WEST Spring 2015
Art Walk FIRST THURSDAYS ART WALK - October 4, November 7, December 4, Laguna Beach 6 pm - 9 pm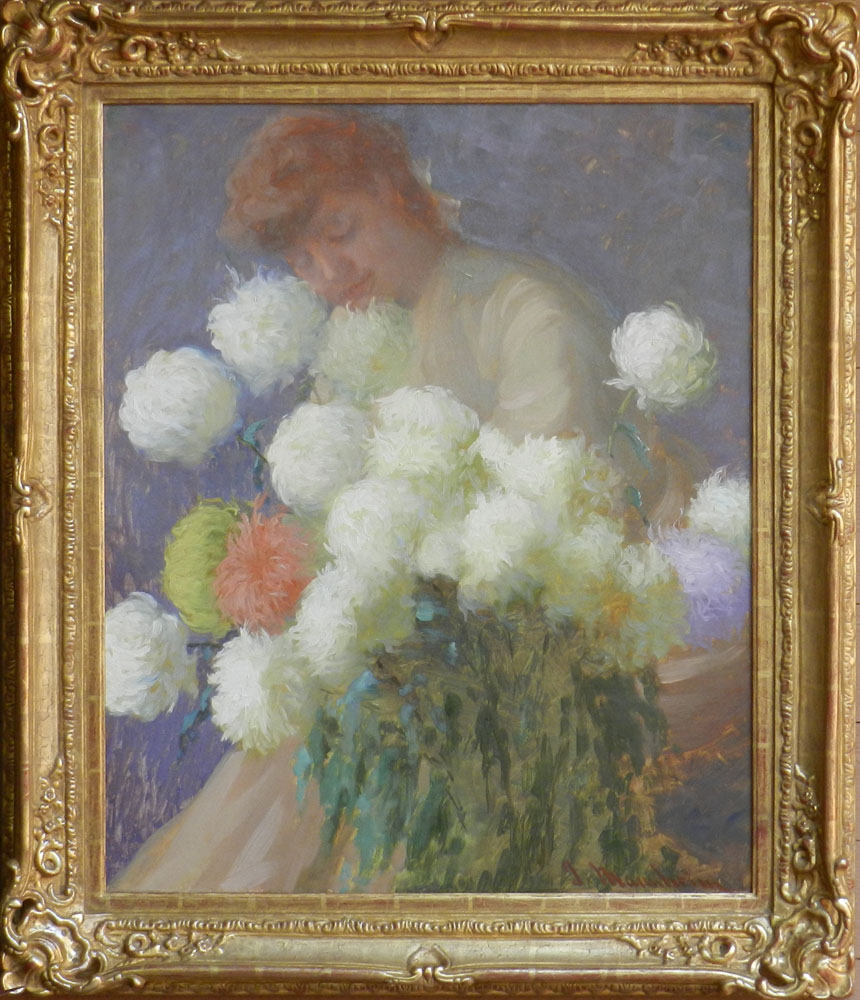 Chrysanthemums circa 1927
Born in Bad Kreuznach, Germany to a German father and a French mother, Mannheim left Germany to begin his art training in Paris. Studying at the Academies Julian, Colarossi and Delecluse, under the direction of Bouguereau (1825-1905), Fernand Cormon (1845-1924) and others, he developed a strong traditional background. This extensive training gave him a strong artistic foundation from which he eventually developed his own unique artistic style. He became one of Southern California's eminent early artists who was admired and respected by his contemporaries as an artist and teacher.
Mannheim spent some years teaching at the prestigious Frank Brangwyn London School, the Denver Art School and was the founder of the Stickney Memorial School of Fine Arts in Pasadena in 1913. He was one of the first artists to build a home on the rim of the Arroyo Seco of Pasadena and one of the few painters to continue painting figures as well as impressionistic landscapes. This joyous portrait pictures a young woman in peaceful bliss surrounded by the bursting chrysanthemums.
Jean Mannheim won the gold and silver medals at the Panama-California Exposition, San Diego, 1915, the gold medal, Seattle Exposition, 1909 and first prize at the London School of Art.
Works Held: Denver Museum, Colorado; Fleischer Collection, Arizona; Irvine Museum, California; Laguna Museum of Art, California; Long Beach Museum of Art, California; Springville Museum of Art, Utah.

---

(1861-1930)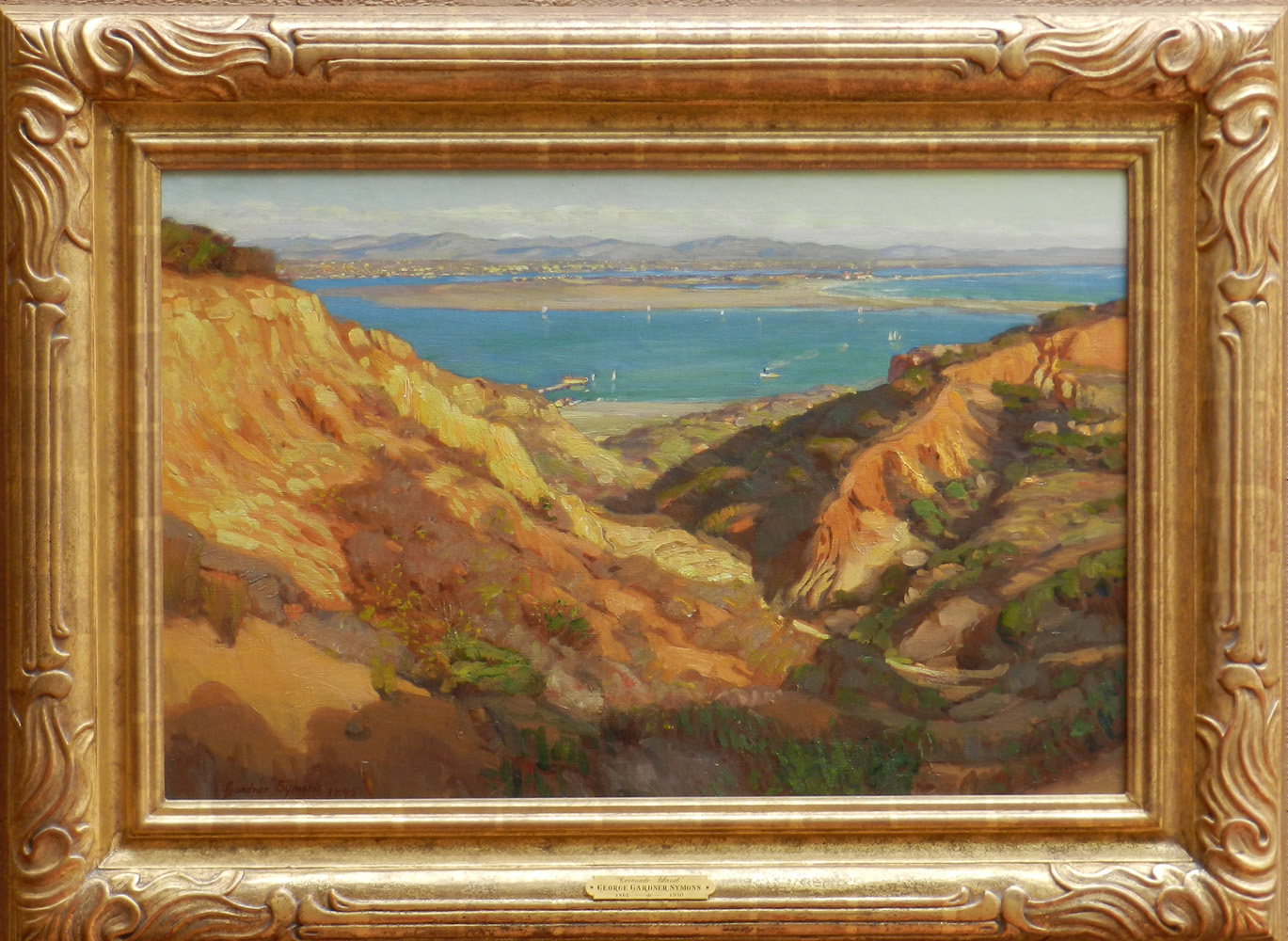 Coronado Island, dated 1895
Viewed from Point Loma, is Coronado Island in 1895. Here one can see the distinctive red roofs of the Hotel del Coronado that was built in 1888. George Gardner Symons was one of the earliest artists to paint the Golden State. Symons was already established as a prominent artist when he painted this blissful scene.
George Gardner Symons was born in Chicago, Illinois on October 27, 1861. Symons began his art training at the Art Institute of Chicago and it was there that he met William Wendt who was to remain a close friend for the rest of his life. After further art study in Munich, Paris, and London (1902-09), he settled in Brooklyn in 1909.
Symons was highly successful during his illustrious career keeping a studio in Brooklyn, New York while continuing to travel. In 1884, he made his first trip to Southern California. In 1896 accompanied by Wendt returned and built a studio in what is now South Laguna Beach. The artist maintained studios splitting his time among New York City, Colerain, MA. and California. He also painted frequently in Cornwall, England.
Member: Associate member of the National Academy of Design, 1910; National Academy, 1911; Royal Society of British Artists; Laguna Beach Art Association; California Art Club; National Arts Club, New York (life); Union International des Beaux Arts et des Letters; American Federation of the Arts; Century Association; Chicago Society of Artists; Salmagundi Club,1900; Chicago Gallery of Art; Institute of Arts and Letters.

Exhibited: Royal Academy of London, 1899; Art Institute of Chicago, 1899-1902 (under Simon), 1909-24; Pennsylvania Academy of Fine Arts Annual, 1901, 1910-29; Boston Art Club, 1901; National Academy of Design, 1909 (Carnegie prize), 1919 (prize); Salmagundi Club, 1910 (Evans prize); Buenos Aires Exposition, 1910 (bronze medal); National Arts Club, New York, 1912 (gold medal); Corcoran Gallery of Art - biennials, Washington D.C., 1910-28 (9 times; including bronze medal in 1912); Cleveland, 1913; National Academy of Design, 1913 (Saltus gold medal); Concord Art Association (6th annual exhibition); Society of Independent Artists, 1917.

Works Held: Metropolitan Museum of Art, New York; Brooklyn Institute of Arts & Sciences; Art Institute of Chicago; Cincinnati Museum of Art; Corcoran Gallery of Art, Washington D.C. ; Laguna Beach Art Museum; Irvine Art Museum; Youngstown, OH; Carnegie Institute, Pittsburgh; Los Angeles County Museum of Art; Pasadena Art Museum; Toledo Museum of Art; St. Louis City Art Museum, Dallas Art Association; Minneapolis Institute of Art; Fort Worth Museum; Butler Art Institute; National Arts Club; Des Moines Art Association; Lincoln Art Association (NE); Cedar Rapids Art Association, Iowa; Museum of Art, Erie, PA; Rochelle (IN) Art Association
---
Click on the images to see more paintings